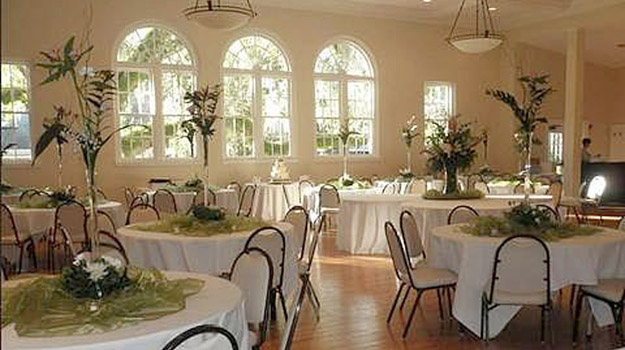 The Clubhouse features a formal ballroom, lighted by elegant chandeliers, and beautiful wood floors.
The Clubhouse can accommodate groups up to 300 (200 seated; 300 standing). The original wood flooring provides a natural dance floor.
A lovely terrace provides additional space and ambiance.
Tables and chairs are included in the rental.
The Event must be concluded by 11:00 p.m. (12:00 in December).
A Uniformed Certified Law Enforcement Officer must be present during the event for every 100 guests. We will  make arrangements for the Officer and the Renter will be responsible for paying the Officer the night of the event.  A minimum of 4 hrs. at $35.00 an hour must be paid for each Officer.
Cancellation: Renter shall forfeit the deposit if the Event is cancelled.  For cancellations within thirty (30) days of the event, the Renter shall also forfeit  the Rental Fee.